Get to Know Curator in Two Minutes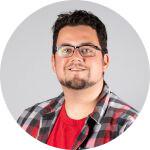 Ben Bausili
Experience Practice Lead
May 17, 2021
You know how to get started with Curator in five minutes, but what if you're not all that familiar with Curator in the first place? This video will help you put first things first and give you a flyover view of Curator and how it can help you transform your analytics practice and deliver artfully crafted data experiences to users.
So … What Is Curator?
Tableau gives you the power to build amazing dashboards. Curator by InterWorks gives you the power to build an amazing experience around your dashboards. By combining these robust offerings, you're empowered to bring a data experience unlike any other to your users.
Curator is an easy-to-use platform for building websites deeply integrated with Tableau. With your Curator site, you can make content more accessible, increase user adoption and tailor design to your brand's look and feel, all while staying within your organization's ecosystem.
What Can You Do with Curator?
Build custom navigation, personalize user homepages, and mix text, images and analytics together all in a single place. Consider it your very own one-stop data shop, making navigation a breeze. Plus, with a range of user-focused features to extend Tableau, you can deliver insight like never before.
Deep integration with Tableau means that adding new content is just a few clicks away. By leveraging Tableau's permissions, your content is secure, and Curator will automatically tailor the experience based on each user's permissions. That personalization can be taken even further in Curator with unique homepages, navigations and styles for each user. This powerful customization allows you to deliver an Executive portal, individual department sites, or external analytics to customers all within a single tool.
Beyond simple integration, Curator by InterWorks extends and enhances your Tableau content. How? Tutorials make it easy to guide your users the experience. Our Page Builder tool delivers insight using a variety of text, images and analysis, ensuring your users are being presented the right data in the best way. Our Report Builder tool allows your users to create custom reports and presentations, leveraging your Tableau content even more.
How Do I Bring Curator to My Company?
Curator by InterWorks comes in both Standard and Enterprise editions. Curator Enterprise allows you to expand Curator across your company and around the globe. Enterprise supports high availability, multiple Tableau servers, translations and even allows you to create self-governed instances of Curator to serve your various business areas. Learn more about these Enterprise features on our blog, or explore what it looks like to move to Enterprise.
Curator is built by InterWorks and supported by our Experience team, so you can be sure you're receiving premier service and unparalleled industry expertise. We look forward to partnering with you to bring your vision to life!