Enhance Tableau with These Five Curator Enterprise Features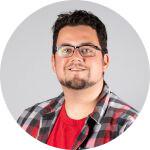 Ben Bausili
Experience Practice Lead
February 11, 2021
Are you trying to deliver Tableau to a global audience? Do you have deployments that involve multiple external customers, departments or countries? Curator Enterprise is making it easier than ever to deliver a better user experience to your Tableau users. Here are five ways Curator Enterprise can help you:
1. Central Dispatch
Curator has always provided a robust control for delivering unique experiences to your user groups. Your executives can have a unique homepage of KPIs, your analysts can get a list of recently updated dashboards, and your external customers can see a selection of featured dashboards surrounded with their own branding. Central Dispatch turns these capabilities up to 11, allowing your organization to deploy and manage multiple unique Curator instances. Now, it's easy to have regional instances to support your global audience or to allow a department to own and manage their own content. See the feature announcement for all the Central Dispatch details.
2. Translation
A global audience means the need to localize the Tableau experience. With Curator's translation feature, it's now possible to translate nearly every part of the Curator frontend and even administrative backend. All you need to do is provide your desired translation for words or phrases, and Curator will swap out based on the logged-in user. Now, you can extend the reach of Tableau even further! For more information on the Translation feature, visit the blog post.
3. Org Chart
Do you need a way to show your organization or department org chart? We've got you covered! Curator has a built-in org chart that makes it easy to add and maintain while looking stunning in the process. Check out this live demo to see it in action.
4. Multiple Tableau Servers, PowerBI and Other BI Systems
Large organizations often have multiple Tableau Servers. Some might even have legacy BI systems that need to be supported alongside Tableau. Curator can help bring everything into a single location, creating a true home for your analytics. As part of Central Dispatch, you can have a parent portal that aggregates the contents from multiple Curator instances, allowing a true global view across multiple Tableau Servers. Legacy BI systems can be supported through our iFrame tool in our Page Builder system or, in the case of Power BI, can be fully integrated, so it supports the same ease of use you already know with Tableau. Supporting these systems allows us to smooth the transition to Tableau by providing a single URL for reports while you build out your Tableau versions.
5. High Availability
When Tableau and Curator are supporting key business functions, you need high availability (HA) to make sure users can always access their essential data. As part of your Curator Enterprise installation, you'll get an HA setup customized to your needs and requirements. Our robust APIs will keep these instances in sync, and the setup can be further leveraged for localized instances around the globe.
Let us know if you'd like to discuss how these or other features can help you deliver a better Tableau experience to your clients.