The Path to Enterprise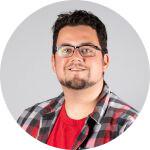 Ben Bausili
Experience Practice Lead
February 22, 2021
You may have noticed that the Curator by InterWorks family has been expanding. With the introduction of Curator Enterprise last year, we've been hard at work on ways to improve the experience of managing large and complicated installations. Our hardworking clients have done amazing things with Curator and our available APIs. Some have built their data products on our system, deploying unique Curator instances to each customer. Each customer receives a white-labeled website that can be connected to unique and isolated Tableau Servers. Others are creating internal analytics communities, deploying instances of Curator around the globe while providing localized content and managing regulations like GDPR. Before Curator Enterprise, these things were all possible in Curator but required more technical expertise to build out such custom solutions.
From Custom Dev to Built-in
We love that our customers have taken the Curator platform and extended it in so many creative ways. We are committed to enabling custom development on our platform with APIs to further expand the reach of Tableau in your organizations and to your customers. However, it's even better when those custom development projects can become something that impacts our larger user base. Building in the most common use cases allows for these enterprise-level use cases to be deployed faster, with more confidence and with the backing of our dedicated support team.
Advantages of Built-in Enterprise Features
Curator Enterprise has been the result of partnering with our most visionary clients, helping to birth features such as Central Dispatch. Central Dispatch was developed and tested on real-world use cases to allow organizations to deploy both new internal and external instances of Curator from an easy-to-use webpage. When a client's vision matches up to our roadmap for the product, it's a natural fit that allows us to take the whole platform forward faster. For our clients, by moving this beyond one-off, in-house custom development, they benefit from the experience of our development team, receive full support for the feature as part of the tool, and get value from the rigorous testing process every aspect of our platform undergoes. That's not to mention that the wider use of the feature means further improvements and stability.
Partnering with InterWorks
Are you a current or potential Curator customer and want to discuss if Enterprise is a good fit? Or are you curious as to how we might potentially partner to create the tools you need to support your vision? Please let us know! Our team would love to give you a demo or discuss your great ideas for the next big Curator feature.