Webinar Replay: Redesign the Analytics Experience with Curator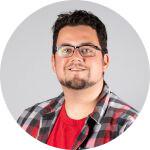 Ben Bausili
Global Experience
Practice Director
September 2, 2022
A lot of analytics tools are fantastic at visualizing data, but they don't really have a good solution for presenting that data in a clean and effective way. That's where Curator by InterWorks comes in.
Why Curator?
The common state of analytics is a lot like a garage sale: it's messy, disorganized, but there are a lot of treasures out there to find. That can be exciting on a casual Saturday, where you have time to sift through and find that diamond in the rough, but it's less exciting when you're on a deadline and pressed to make a decision with your data.
That's why your presentation matters. There's a big contrast between a garage sale and an Apple store. The presentation aspect is hyper focused on in an Apple store, and it elevates the whole experience as a result. That effectiveness, in turn, helps with their incredible success.
Curator exists to take that dashboard you poured your heart and soul into and elevate it just the same. 
If you want to watch a replay of our webinar and read a more detailed writeup, we've elected to host the main replay on the main InterWorks site. We reviewed how Curator enables you to brand, customize and unify your analytics to elevate your data experience.