Leveraging the Power of ThoughtSpot Everywhere with Curator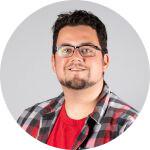 Ben Bausili
Global Experience
Practice Director
February 24, 2023
We all know that data is critical for businesses of all sizes. The struggle comes when the data we need isn't available in time. ThoughtSpot is at the forefront of revolutionizing data analytics with its search capabilities, ensuring that the data you need is only a search away. Thoughtspot's innovative approach to making data accessible to everyone has expanded with its ThoughtSpot Everywhere offering. Thoughtspot Everywhere allows you to embed data analytics and search directly into your website and applications.
Why Embedded Analytics?
Embedded analytics has many advantages, allowing you to build an internal site for your employees that unifies their tools and resources. A custom website for your analytics can vastly improve the user experience, making things easier to find, easier to use and part of employees' daily routines. You can also leverage ThoughtSpot Everywhere to build an externally facing site to serve your vendors, partners or customers, opening up the potential to monetize your precious data assets.
Thoughtspot Everywhere makes embedding relatively straightforward, but you'll still need technical expertise to integrate with their APIs and build your website. That's where Curator comes in. Curator is an easy-to-use, no-code website builder that handles all the integrations and APIs for you. By combining the power of ThoughtSpot Everywhere with the ease of use of Curator, businesses can reap a range of benefits of embedded analytics that can drive growth and success. Here are a few of the ways Curator and ThoughtSpot Everywhere are better together:
Improved Data Discovery: When your analytics are in a website you control, you can deliver the information the way your users need it. You get control over the navigation, homepages and landing pages, allowing you to organize better and present your resources. You also get a powerful search that goes across content, not only what exists in ThoughtSpot, but can also include files, web pages, resources and even other BI platforms like Tableau and ThoughtSpot.

Better User Experience: ThoughtSpot Everywhere and Curator provide a seamless user experience that can help to improve user engagement and satisfaction. Users can access and interact with ThoughtSpot Everywhere dashboards directly from your Curator website while also having access to supporting resources and other related content without switching applications. You can even combine ThoughtSpot tools in a single page, allowing users to view a Liveboard and then jump into a search of the same dataset without going to a new page.

Cost-Effective Solution: By using Curator to embed ThoughtSpot Everywhere into your website, you can save time and resources compared to building a custom solution from scratch. A typical Curator project can launch in weeks instead of months or years for a convention custom project.

Customizable: Curator can be completely white-labeled, allowing you to leverage your brand assets to create a professional, trustworthy site. Not only that, but with features like User Group Overrides and Central Dispatch, you can spin up multiple versions of a website to deliver custom experiences. This can enable a single Curator site to provide an experience for your executives, another experience for your vendors and yet another experience for your business users. You could also build a data product that reflects your customers' brands, so each sees their unique look and feel each time they log in.
Combining Curator and ThoughtSpot
In conclusion, leveraging the power of ThoughtSpot Everywhere with Curator provides many benefits, including improved data discovery, better user experience, faster ROI and better customization. Whether you're looking to enhance your data-driven decision making or gain a competitive edge, ThoughtSpot Everywhere and Curator can help you achieve your goals. Please reach out for a free consultation session. We'd love to chat if you're ready to see both in action or if you have any other data problem you'd like guidance on.