Analytics the Way It Should Be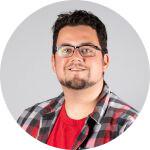 Ben Bausili
Global Experience
Practice Director
March 9, 2023
People Make Better Decisions With Data
In most companies, they strive to be data-informed and data-driven, but far too often have to fall back to a gut feeling. The willingness to use data is there, but there are roadblocks to timely access. Sometimes there's too much noise, and decision-makers struggle to find the right report across the deluge of dashboards and platforms. Sometimes analysts are unsure of the most effective way to share their insights with those who need it most. Often, it comes down to the lack of cohesive user experience focused on helping users find and share analytics at scale.
Curator exists to remove these roadblocks and deliver an impactful, customized user experience to enable better decision-making. Curator empowers you to empower your teams with data.
Exceeding Analytics' Potential
Curator is the way analytics should be. A single, well-design interface styled the way you want that allows you to use any tool you choose. Everything you need to make good decisions at your users' fingertips. Flexibility in tool choice means you can deliver the best data for decision-making while avoiding vendor lock-in.
With Curator, you also have the freedom to continually evolve your tool choices without disrupting the user experience negatively or derailing data delivery. This unique freedom allows you to add new capabilities no matter which tool provides them so you can chart the best course for your use case. With the ability to control the style and branding, you can build trust and stand out from the noise while delivering all of those capabilities. All this combines to enable you and your users to make better decisions faster and with confidence.

Curator delivers on these promises for both your internal and external users. Internally, you can use Curator to craft a powerful data-fueled intranet. Imagine a single location where you can answer a quick question with ThoughtSpot, study a Tableau dashboard and peek at a Power BI Report sourced from the best and brightest around your company. That same site could act as a streamlined Executive Portal where reports can be automatically displayed and refreshed inside your office, keeping you on top of your most important KPIs.
Now imagine that impact of data expanding further out to reach your customers, vendors, and partners. Curator enables you to deliver custom, white-labeled web experience or to mass email PowerPoint and PDF reports that reflect highly on the care and thought of your company. Finally, with Curator you are days instead of months away to delivering a comprehensive data product that leverages your valuable data assets and knowledge to bring more impactful insight to the world.
Who is Curator?
Curator is built by the passionate, people-focused data experts at InterWorks to make data and decision-making more effective. We believe strongly you should have freedom in your data tool choices and develop the best combination to serve your particular needs. We also believe in being a partner with you beyond a single product purchase to create a relationship to help you achieve your goals. Whatever the roadblock, be it user experience, development, tool selection or data infrastructure, we're here to help. Let's get started today. Contact us for a free consultation on how you can achieve your best version of analytics.