Curator is the easiest way to create a Portal for Tableau, Power BI, and ThoughtSpot. Curator allows you to spin up a Tableau Portal with no-code tools so you can white-label your Tableau reports and other tools with ease. Curator is a analytic web cms that leverages Tableau's embedded analytics capabilities, as well as those of Power BI and ThoughtSpot, to create focused executive experiences and analytics portals . As an easy to use website builder, Curator increases user adoption for Tableau, Power BI, and ThoughtSpot. Up your governance game and curate you analytics catalog to bring better and more effective analytics to your company.
Last Updated: 2023-09-18 22:26:03
All Your Analytics
In One Place

Increase user adoption with a unified entry point for your analytics. Curator is the no-code way to build analytics portals for Tableau, Power BI, ThoughtSpot, and beyond!


Make Analytics Matter
Curator is built for analytics and analysts, allowing our customers to increase user adoption by as much as 350%. Curator lets you quickly create company analytic portals for employees and customers. You can further customize the experience to target the specific needs of your executives or other VIP users.
With our tools, you'll gain control over your data governance process and increase the impact of your analytics. Easily white-label Tableau, Thoughtspot, or Power BI to deliver a branded experience to your users. 
Of Users Polled:
USABILITY
79%
find usability to be their #1 priority
CREDIBILITY
75%
judge credibility of info on the way it looks
CURATION
63%
expect sites with curated content
PERSONALIZED
54%
expect sites to provide personalized experiences
Redesign the
Data Experience
Curator exists to elevate your dashboards, helping your audience connect with them. By using the embedded analytic capabilities of Tableau, Power BI, and ThoughtSpot with the power of Curator, you can create a unified analytics portal that increases user adoption, improves onboarding, and delivers truly impactful analytics.

Who Is Curator for?
Curator helps you effectively reach your audience: internal or external,profit or non-profit, local or global. Find and share your analytics with ease in a custom analytics portal.

Data Champions
Increase impact
with an Analytics Portal
Customer & Vendor Managers
Provide data and insight
with a Customer Portal
Analytics Leaders
Improve data governance
and user-adoption with a Data Hub
Data Product Managers
Get to market faster and
monetize your data


Easy to Deploy, 
Enterprise Ready
Curator Enterprise comes with proven security, scale and is fully supported.
Security




Enterprise-Grade Security

Single-Sign On (SSO) Integration

Two-Factor Authentication




Scale




Enterprise-Grade Scale

High Availability*

Multiple Site Control through Central Dispatch*

Centrally Manage Upgrades and Deployments*

Customize Curator per User Group




Support




Enterprise-Grade Support

 




* Indicates an Enterprise Plan feature, see our Plans page for more info.


Hassle-free setup and integration within one week.
No code required.
Check Out What Curator Can Do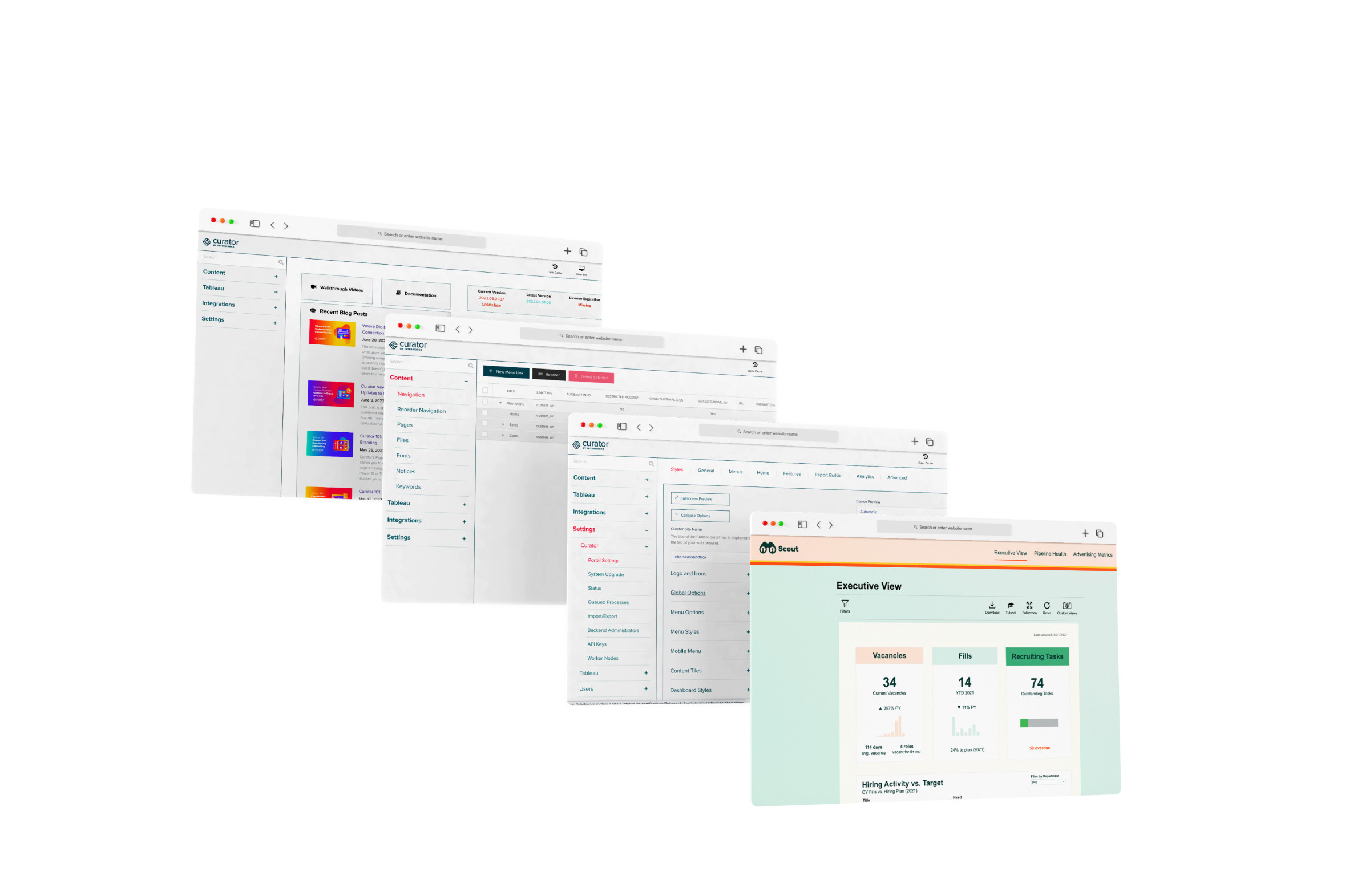 All New Style
In Just a Few Clicks.
Dive deeper with our guided demo, or book a more personalized consultation with our team.

What Our Customers Are Saying: