Top Things You Didn't Know About Curator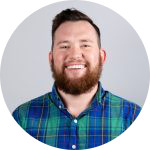 Justin Lyons
Experience Engineer
October 29, 2020
Curator is the most feature-rich embedded analytics solution out there! If you are a current user, you're well aware of the many bells and whistles available. If you aren't following the changelog or blog releases, there may be some great functionality your users would love to have that you aren't aware of! Below are four features that have been around for a few months that you may have missed and are sure to make a difference in your Curator instance and analytics in general.
Automatic Logout
When I'm done working for the day, I typically just turn the screen off on my laptop, so the next morning I'm able to open it up and get to work. This can cause some unfortunate scenarios for web-based apps. One, of course, is security. If your laptop isn't password protected, then the next person who opens it up can dig right into whatever you had open. Within Curator, we have added a feature to protect your users from security concerns: automatic logouts.

This feature allows you to set the duration for which an idle session will stay valid. Once that duration has lapsed, the user will be redirected to the login page. This feature is configured by going to the Curator backend > Settings > Tableau Server Settings > Authentication tab and entering the number of minutes desired (if left blank, the feature will be disabled):

User Menu Access Preview
Curator mostly relies on your Tableau Server permissions to determine whether a user has access to a dashboard, but you can also disable access using the Restrict Access feature on a menu item. You may have some users asking, "Why can't I see this dashboard!" and would like to figure out why. Well, there's a feature for that! From the Curator backend, go to Settings > Frontend Users then click into a user and hit this button:

This is an example of the resulting menu access (red text indicates the user does not have access):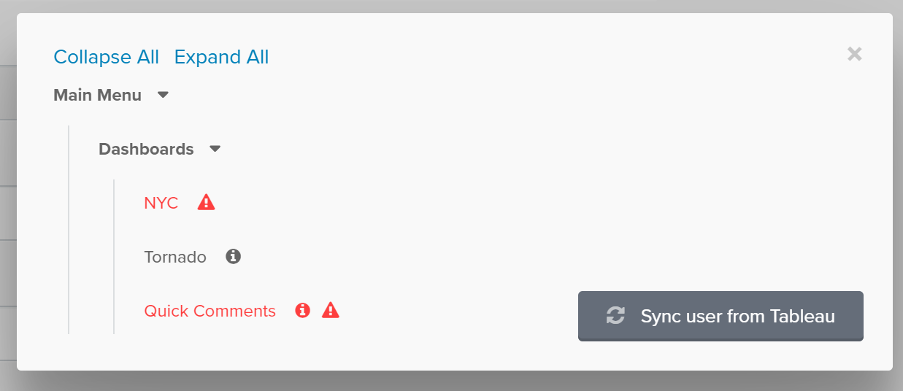 New Subnavigation Type
We've had the "Traditional" and "No Subnav" types for quite a while, so it felt like time to bring a more modern feel to our dashboard pages. If you'd like to spruce up your action buttons, go to the Curator backend > Curator Settings > Menus and change the Subnavigation Type dropdown to Compact:

And the result is this: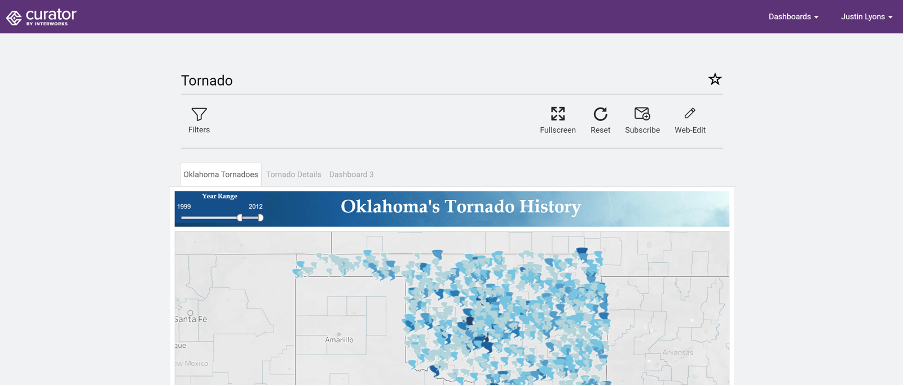 This opt ion incorporates modern design principles like increased negative space and cleaner iconography.
Import CLI Command
This one is for the developers our there! We're seeing more and more high-availability setups for Curator, so we want to make sure we make that infrastructure easier to maintain. Most of these implementations are done with scripts to limit direct human interaction with production environments. With our import CLI command, developers can promote content from lower development or test environments to production without having to use the Curator backend interface. This can be done either using a file generated from a lower environment or simply via the API. Here is the command leveraging a file that's been added to the development environment:
php artisan portal:import -f /path/to/file
and with the API:
php artisan portal:import -u https://lower-environment-url -k api-key-for-lower-environment
If you're importing Tableau settings, it's important to make sure the REST connection stays enabled. Our current import process leaves the REST user password out for security purposes, so we also have the option to provide that password via the CLI:
php artisan portal:import -f /path/to/file -p rest-user-password
Or:
php artisan portal:import -u https://lower-environment-url -k api-key-for-lower-environment -p rest-user-password
Future Forecast? More Fresh Features
Every month, our Curator Experience Engineers and Designers work hard to make the product better and better, so keep an eye out for new features that can improve the experience for your users!