3 Ways Curator Enables Your Analytics Hub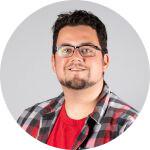 Ben Bausili
Curator Engineer
September 28, 2022
Analytics can often feel like garage sale shopping — a disorganized pile of random items that are hard to sort through. There are treasures to be discovered, but it takes work and dedication to find them. That can be fun on a lazy Saturday, but not so much when you have a deadline and need insight now. Is everything in this project in production, up-to-date and valuable? Which server had that report? Which site? Did they email that to me? Slack? I'm already exhausted.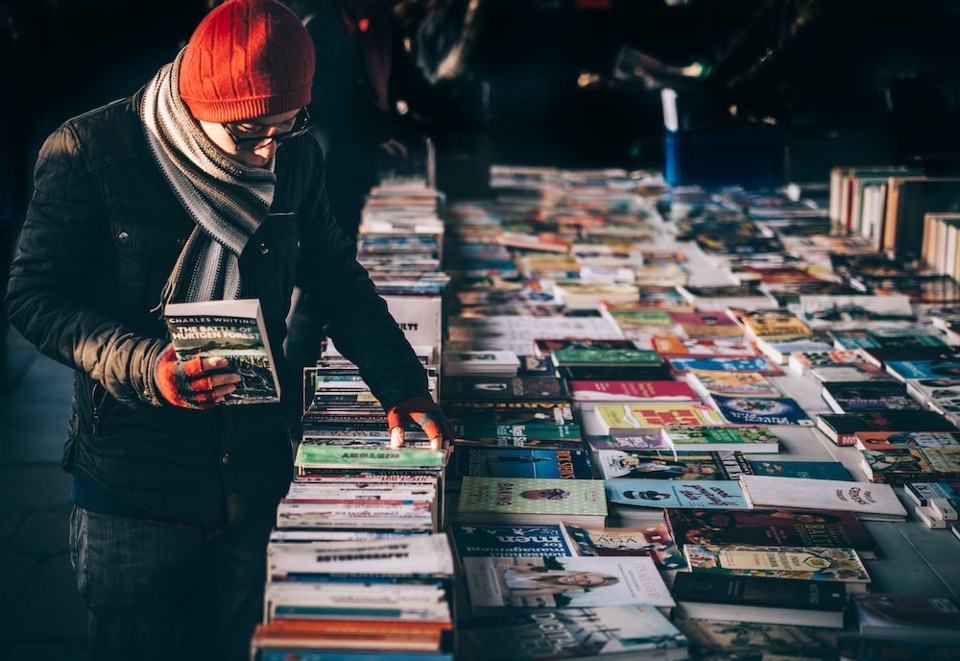 Sorting through piles can be a fun hobby but stressful when you need something immediately. 
Now imagine a single site to visit with all your analytics and tools. Imagine a cohesive visual experience where reports are easy to find and share. That sounds like a breath of fresh air, right? With Curator by InterWorks, you can create an internal analytics portal where you can search with ThoughtSpot, study a Tableau dashboard and peek at a Power BI report without missing a beat.
Curator creates a modern gateway to the modern analytics stack, letting you use the best tools for the job while still delivering a unified experience.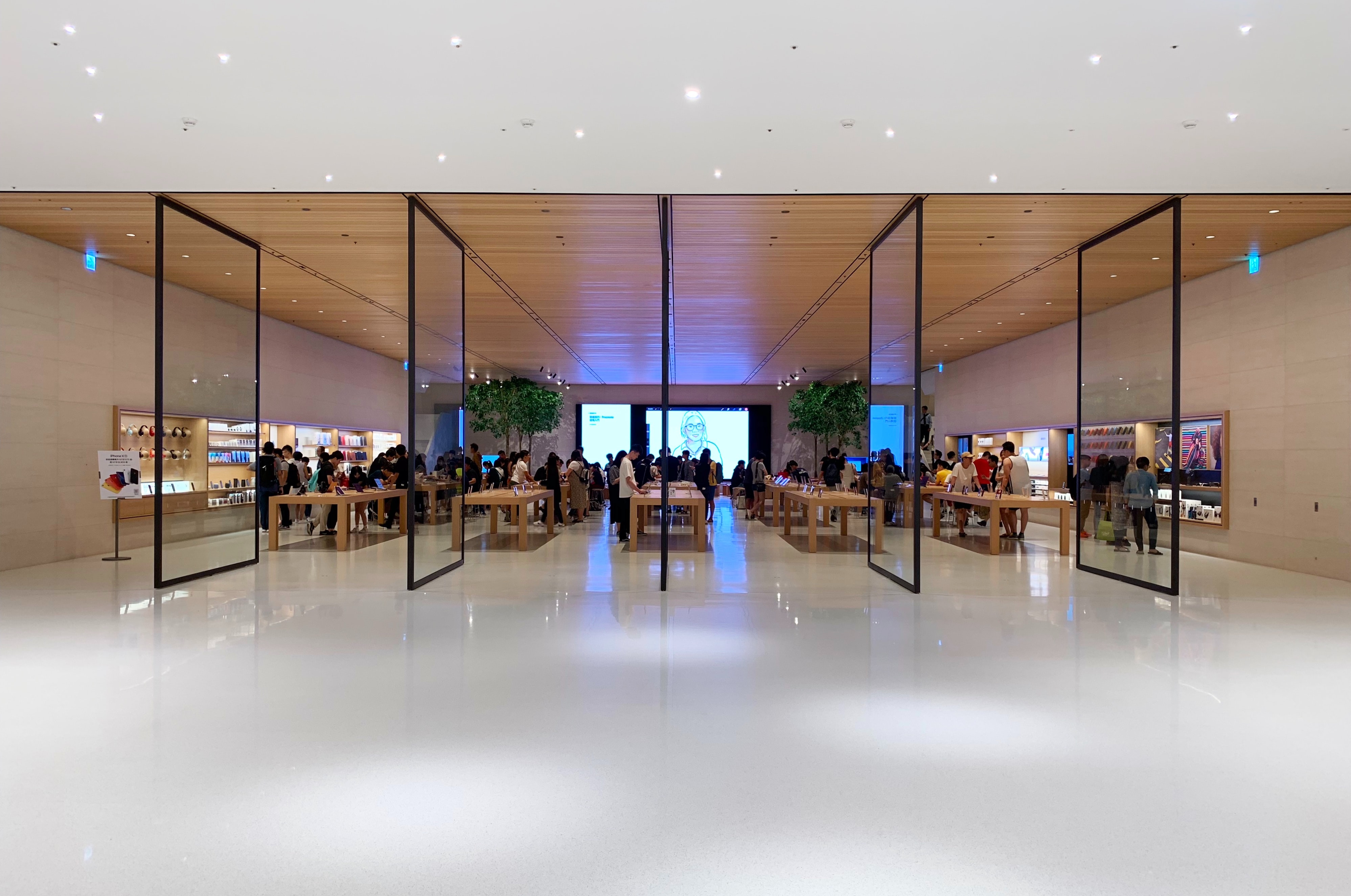 An elevated experience makes finding what you need more accessible and enjoyable.
Curator creates this central analytics hub by allowing you to do three things with your analytics. First, Curator makes it easy to brand and style your analytics, so it's familiar and trustworthy. Second, Curator allows you to customize the experience, so users can find what they need faster. Third, it helps unify your analytic platforms and surrounding content to make it easier to discover and combine for increased impact. These three combined lead to more user engagement, increased adoption and, ultimately, better data-driven decision-making. Let's look at each of these things in a bit more detail.
Brand and Style Your Analytics
75% of your users judge the credibility of content based on its visual design. Leveraging your brand and creating a consistent look and feel is more than mere window dressing. It's a core part of having users take analytics seriously. By applying a cohesive style to your analytics, you build trust, make it easier to sort through and create a more enjoyable experience that users will repeat. Curator gives you some easy-to-use, no-code tools to increase user adoption and trust. Quickly set global styles for all your pages by dragging in your logo and inputting your brand colors with our color picker.
You're not limited to a single style, either! You can customize the site, allowing one group to have a dark theme while another could have a light theme. Going further, you could have unique team logos appear on the homepage or create a custom experience for your executives. It's as simple as choosing a group and starting a new style with our no-code tools.
Customize Your Analytics
Returning to your users, 79% list usability as their top priority. 63% expect content to be curated. 54% expect personalized content. Those stats will only grow over time as the apps we use continue to improve. A customized user experience is simply table stakes, but luckily Curator provides you the tools to tailor the data experience to your users.
In Curator, it starts with navigation. It's simple to choose the navigation style, add icons and organize how you see fit. You can easily tag groups of content with Keywords and quickly sort them into menus via drag and drop controls. Curator also has Page Builder that allows you to create custom homepages and landing pages for content. Combine these with your analytic tools' navigation and drill-down features, and you can make a compelling way to find insights.
Like with branding, you can tailor customizations for each user group. You can create custom menus and homepages, apply content security and enable specific features depending on a user's group membership. These features mean that you can deliver a focused executive experience that jumps right into their KPIs, a branded vendor experience to help align on current campaigns and a more general exploration experience for your analysts – all within a single Curator instance.


Unify Your Analytics
Going back to our garage sale analogy, the core problem is not only the lack of organization that is usually present, but also having no clue if the item you want is even at this place. It could be across the street or across town. There is no way to be at all the garage sales simultaneously. That said, Curator allows us to bridge all of our analytic platforms together, creating a single experience to search and explore.
Unifying starts with our content integrations for platforms like Tableau, ThoughtSpot and Power BI. Curator connects to these platforms, making it easy to import content and leverage your existing security. With these platforms, Curator will only ever show content in menus or tiles that a user has access to see. That means that Curator provides a customized experience right out of the box based on user security.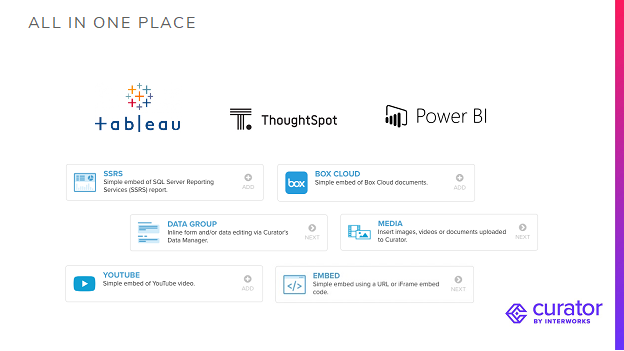 It doesn't stop there. Curator makes adding other systems like SSRS, YouTube and Box easy. Mix and match text, media and analytics to create a powerful experience. Any system that can be embedded can be brought into Curator. Many of these will provide easy-to-use embed URLs or codes you can simply copy and paste into Curator. By doing this, you can ensure all your systems are searchable and discoverable within Curator.
Besides unifying the location of the content, you can also unify platforms in their mission to deliver insight. In system architecture, this is often called the 'best of breed' approach, where you leverage each system for what it's best at doing. Curator enables this strategy by allowing you to combine tools into a single webpage. For instance, you could create an impactful Tableau dashboard with drill-downs and allow the user to search the same dataset via ThoughtSpot when they have questions beyond the dashboard.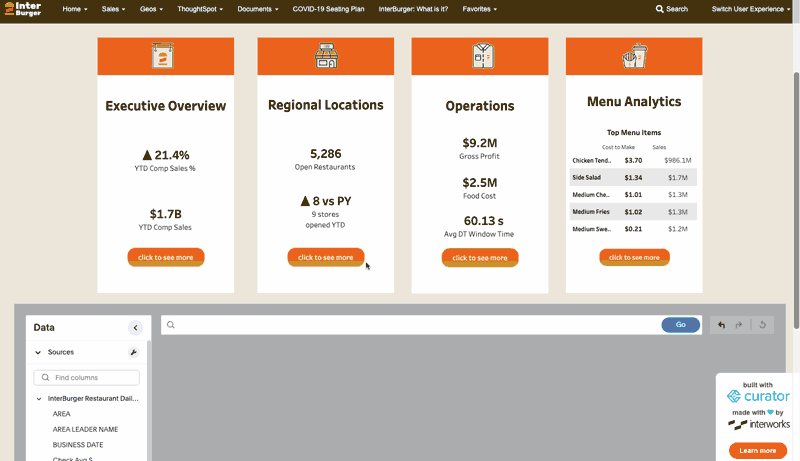 The Central Analytics Hub
The future of analytics is embedding the tools to create a better user experience. By creating a single home for your data, you elevate the experience around your dashboards and ensure they get the audience they deserve. By giving it a consistent style, you build trust in the hard work of your analysts. By customizing the content and navigation, you help your users find things faster and with less frustration. By unifying the platforms, you enable data to become even more impactful. If you're ready to talk about how Curator can help you take the next step in your analytics journey, please reach out for a free demo and consultation.